POP3 is a common protocol that use by desktop email client to retrieve emails from your mail server. Most web-based email service don't provide access to POP3. But it is changing. Major email provider such as GMail and Hotmail are providing POP3 to their user, except for Yahoo! Mail. POP3 is a premium service that require subscription for Yahoo Mail user. But, for some reason Asia user can use it for free! This option is not enable by default and you need to change some settings to enable POP3 in your Yahoo! Mail. Follow the guide below to enable POP3 access for your account:
*An updated guide is now available here!*
* Click on the image for larger screen shot.
Step 1: Login into your web Yahoo! Mail. Click on your Display Name and select 'Edit My Account'
Step 2: You will see your account settings page. In the Member Information section, check the current settings for Preferred Content. If it is Yahoo! Asia, please skip to step 7. Else, click 'Edit' on the Member Information section here.
Step 3: In the Member Details page, click on the current Preferred Content option. (ie: Yahoo! US)
Step 4: Change your current preferred content settings to Yahoo! Asia and click 'Finished'.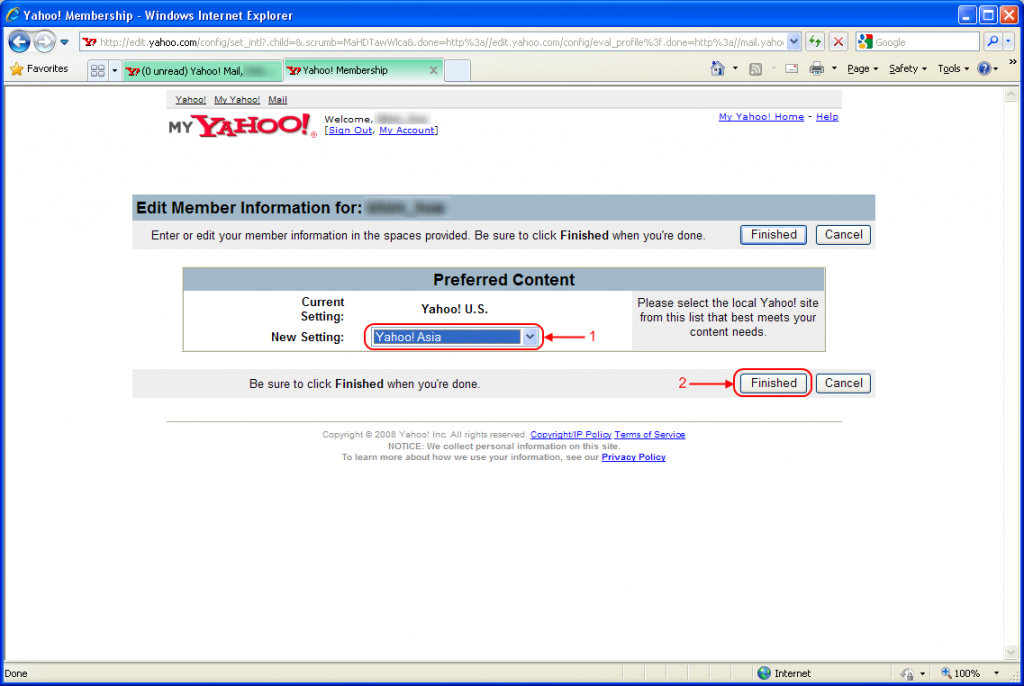 Step 5: Go through the TOS and click 'I Accept'. (If you decline the TOS, you cannot proceed further)
Step 6: Your preferred should be 'Yahoo! Asia' now. Click the 'Finished' button on the top right to save the settings.
Step 7: In your main mail box page, click on Options and select Mail Options.
Step 8: Click on POP & Forwarding. Click the 'Set up or edit 'POP & Forwarding' link.
Step 9: Select the Web & POP Access options. Change the other settings if necessary. Click Save.
And you are done! The settings for the POP3 and SMTP:
Incoming Mail Server (POP3): pop.mail.yahoo.com (Use SSL, port: 995)
Outgoing Mail Server (SMTP): smtp.mail.yahoo.com (Use SSL, port: 465, use authentication)
Account Name/Username: <Your Yahoo! Mail address>
Email address: <Your Yahoo! Mail address>
Password: <Your Yahoo! Mail password>
I will post a guide later on how to setup Yahoo! Mail in your Outlook 2007. 🙂