If you want to read your Yahoo! mails in your Android, you can either use the official mail App or you can use the POP3 option. The advantage of using POP3 is that you can combine your mails from other mail account (e.g. Hotmail) into one inbox! Here is the guide:-
1. Open the email app.
2. Click on the physical Menu button on your phone to bring up the menu. Select "Add account".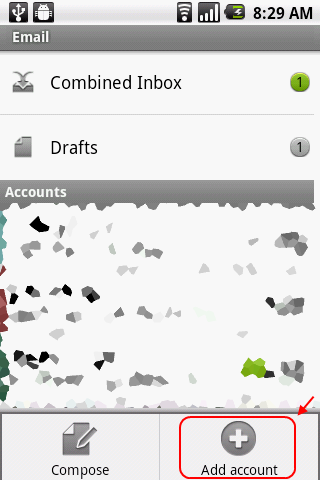 3. In the Email Service Provider screen, select Others.
4. Enter your Yahoo! Mail address and password. Check the "Send email from this account by default option" if you want to send email using this account by default. You can click Next and let the mail app to detect the settings. But in this guide, I'll set it up using the manual method. So, click on "Manual setup" button.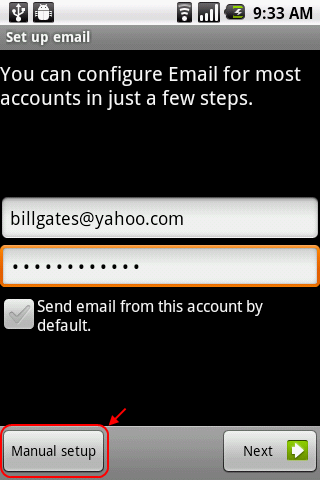 5. In the Incoming server settings screen, fill in your username (full email address) and password. The POP3 server is pop.mail.yahoo.com and the port is 995. For security type, select SSL.
Depending on your preference, you can either keep the email in the web or delete it after you downloaded the email into your phone.
Never – Never delete email in Yahoo! server. (You can still access it from Yahoo! Mail web)
When I delete from Inbox – Delete the email in Yahoo! server when you deleted it in your Android phone.
When I retrieve from Server – Delete the email in Yahoo! server after the email is downloaded into your phone. You won't be able to view the email in the web anymore!
6.  Next, enter the details of the SMTP server. This is the server that you'll use for sending emails. The SMTP server is smtp.mail.yahoo.com, port is 465, security type is SSL and check the Require sign-in checkbox. Then enter your username (full email address) and password. Click Next.
7. Select the options that fit your preference and click Next.
8. Give the account a name (this name will show in your Inbox) and the name you want to use when sending email. Then click done.
9. Now you can read your Yahoo! Mail using your Android smartphone!