If you want to add your Hotmail account in your Android smart phone, you can use the POP option. But, you can't sync your email when you use POP. The other option is to use IMAP, but unfortunately not supported by Hotmail.
Luckily, there is another option that you can use which is the Exchange account. To add it, follow the steps below:-
1. Open the App drawer and select Email.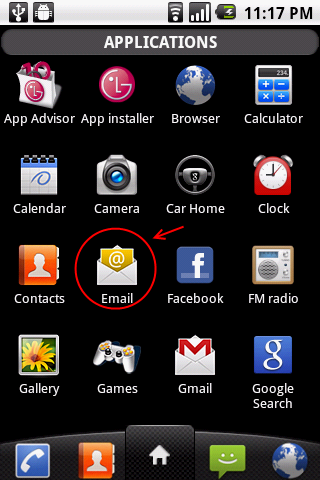 2. If you have an existing email account, you see the screen below. If you don't have an account, skip to step 4. Click on the Menu button on the phone to bring up the menu. Then select Account.
3. In the Account screen, click on the Menu button again and select Add Account.
4. You'll see this screen if this is the first email account that you are adding. Select MS Exchange.
5. Fill in your Hotmail address and also the password. Then select Next. Check the "Send email from this account by default" if you want to send email using this email address.
6. In the next screen, fill in your Hotmail address in the domain\username field. Key in the password, and add the Hotmail server. The server is m.hotmail.com. Check the "Use Secure Connection (SSL)" option. Then select Next.
7. The system will try to connect to the email server. This will take a while.
8. Select the options that you want. The "Amount to synchronize" option is for you to select the amount of emails to synchronize. "Three days" option means it will only download the emails from last 3 days.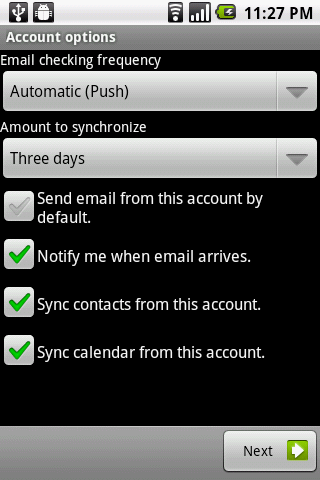 9. Give the new account a name, and you are done!
Some stuff that you need to take note of:
1. If you are not seeing any email, it is most likely because the emails are older than the period that you set in the "Amount to synchronize" option. (e.g. If the last email is 5 days ago and your option to synchronize is 3 days, you won't see any email)
2. I'm using LG Optimus One (P500) and the screen might differ from yours.